003
Maria Thereza Alves: The Long Road to Xico /El largo camino a Xico, 1991–2015
monograph
Sternberg Press
Berlin
South and Central America
004
Otobong Nkanga, Luster and Lucre
monograph
Sternberg Press
Berlin
Europe, Africa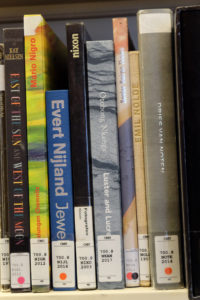 043
The Story of the Red Thread
artist book
monograph
Sternberg Press
Berlin
South and Central America
Read Thread is an artist book by Cecilia Vicuna, a writer and visual artist, that invites us to follow the thread beyond the western linear idea of time towards an endless movement of celestial patterns and its reflection in the human and landscape body. Vicuna, who left Chile 1973 during the dictatorship first for London, lived then in Bogota and after in New York, refers back to different indigenous concepts and techniques, which she poetically and politically interprets and places in tension with the current ecological and economical disaster.
Topics:
artist writing
,
drawing
,
ecology
,
embodied identities
,
feminist
,
history and memory
,
installation
,
landscape
,
materiality
,
painting
,
performance
,
postcolonial
,
protest
,
weaving
097
David Wojnarowicz: History Keeps Me Awake at Night
monograph
Whitney Museum of American Art
New York, N.Y.
North America