008
Anna Oppermann, Ensembles 1968-1992
monograph
Hatje Cantz
Ostfildern
Europe
016
Eva Hesse Drawing
monograph
Drawing Center and Yale University Press
New York
North America
out of print / placeholder
ISBN978-0300116182
067
Anna Maria Maiolino
monograph
Prestel
South and Central America
084
Lee Lozano: Not Working
monograph
Yale University Press
New Haven, Conn.
North America
091
Ana Mendieta: Traces
monograph
Hayward Gallery Publishing
London
North America, South and Central America
out of print / placeholder
ISBN978-1853323171
The catalogue Traces documents the oeuvre of Cuban-born American artist Ana Mendieta (1948 – 1985). In her works she takes agency for and ownership over her body and creates often ephemeral works for which she almost exclusively used natural materials. The female body and the question of belonging are standing in the center of her practice. Mendieta realized many of her performances in nature, which she then documented on film – photographic and moving images. Poetically she expresses in her drawings, sculptures and performances an idea of an inseparable relationship between earth and humanity.
Topics:
belonging
,
body
,
drawing
,
exile
,
film
,
identity
,
land art
,
performance
,
sculpture
092
Paul Thek: Diver, A Retrospective
monograph
Whitney Museum of American Art
New York, N.Y.
North America
093
Joan Jonas
exhibition catalogue
Hirmer Publishers
Munich
North America, Europe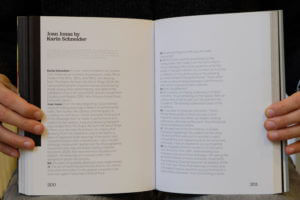 094
Birgit Jürgenssen
monograph
Hatje Cantz
Berlin
Europe