001
Under the Sign of {sic} Sturtevant's volte-face
monograph
Semiotext(e)
Los Angeles
Northern America
Sturtevant was a visual artist, who was based for the longest part of her career in New York. In the 1960s Elaine Sturtevant began operating an art practice in which she meticulously copied selected works of her male colleagues. Her practice was a critique of the culture of the art world in which she was working, one that was dominated by the concept of the lone genius, autonomous, white male creator. From the beginning she dropped her first name to subvert the concept of the identity of a female artist. In Hainley's study he recalls the early performances by Sturtevant including The Store of Claes Oldenburg, Picabias' Ballet Relache and the ambiguous reception of her work at the time.
Topics:
drawing
,
installation
,
painting
,
performance
,
protest
,
reproduction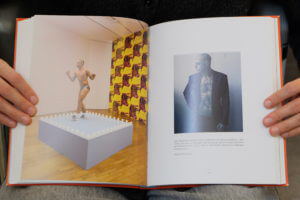 002
David Hammons: Bliz-aard Ball Sale
theory & essays
Afterall Books
London
Northern America
On a rug a number of balls formed out of clean white snow are placed very orderly in relation to their size. One of them David Hammons holds in his hand. The others are in front of him displayed for sale on the ground. This performance was staged in 1983 in New York on a corner of Cooper Square amongst other street sellers. Elena Filipovic gathers material documenting this iconic piece, part of an oeuvre that has only recently become well known. She places Hammon's work, purposefully elusive and hard to grasp, in the context of his critique of questions of race in the United States and in the mechanisms of the Art World.
Topics:
criticism
,
embodied identities
,
installation
,
intervention
,
performance
,
protest
,
race
003
Maria Thereza Alves: The Long Road to Xico /El largo camino a Xico, 1991–2015
monograph
Sternberg Press
Berlin
South and Central America
005
Felix Gonzalez-Torres
monograph
Steidl
Göttingen
North America
008
Anna Oppermann, Ensembles 1968-1992
monograph
Hatje Cantz
Ostfildern
Europe
013
Lygia Clark :The Abandonment of Art 1948-1988
monograph
MoMA
New York
South and Central America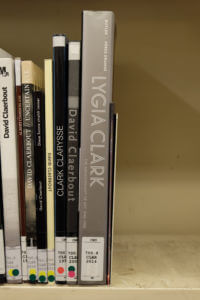 014
Hannah Ryggen. Weaving the World
monograph
Walther König
Cologne
Europe
039
Teresa Burga, Aleatory Structures
monograph
JRP|Ringier
Zürich
South America
040
Duty Free Art: Art in the Age of Planetary War
artist writing
Verso Books
London
Europe
043
The Story of the Red Thread
artist book
monograph
Sternberg Press
Berlin
South and Central America
Read Thread is an artist book by Cecilia Vicuna, a writer and visual artist, that invites us to follow the thread beyond the western linear idea of time towards an endless movement of celestial patterns and its reflection in the human and landscape body. Vicuna, who left Chile 1973 during the dictatorship first for London, lived then in Bogota and after in New York, refers back to different indigenous concepts and techniques, which she poetically and politically interprets and places in tension with the current ecological and economical disaster.
Topics:
artist writing
,
drawing
,
ecology
,
embodied identities
,
feminist
,
history and memory
,
installation
,
landscape
,
materiality
,
painting
,
performance
,
postcolonial
,
protest
,
weaving
055
Don´t shrink me to the size of a bullet – The works of Hiwa K
monograph
Koenig Books
London
West & Central Asia, Europe
131
Hatje Cantz
Berlin
West and Central Asia