001
Under the Sign of {sic} Sturtevant's volte-face
monograph
Semiotext(e)
Los Angeles
North America
Sturtevant was a visual artist, who was based for the longest part of her career in New York. In the 1960s Elaine Sturtevant began operating an art practice in which she meticulously copied selected works of her male colleagues. Her practice was a critique of the culture of the art world in which she was working, one that was dominated by the concept of the lone genius, autonomous, white male creator. From the beginning she dropped her first name to subvert the concept of the identity of a female artist. In Hainley's study he recalls the early performances by Sturtevant including The Store of Claes Oldenburg, Picabias' Ballet Relache and the ambiguous reception of her work at the time.
Topics:
drawing
,
installation
,
painting
,
performance
,
protest
,
reproduction
,
video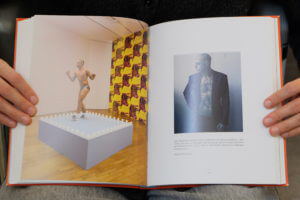 003
Maria Thereza Alves: The Long Road to Xico /El largo camino a Xico, 1991–2015
monograph
Sternberg Press
Berlin
South and Central America
005
Felix Gonzalez-Torres
monograph
Steidl
Göttingen
North America
021
Testo Junkie: Sex, Drugs, and Biopolitics in thePharmacopornographic Era
FEMINIST PRESS, City University of New York
New York
Europe
Testo Junkie – Sex, Drugs, and Biopolitics in the Pharmacopornographic Era – published 2007 in Spanish and French, translated into English in 2013, is an uncompromised document of the nearly year-long self experiment with synthetic testosterones and its lasting effects. The writer and philosopher Paul B. Preciado shares the intimate radical shifts he undergoes while becoming 'man / male' and juxtaposes this document of his political performance with an analyses of how concepts of gender in society are shaped by the pharmaceutical and pornography industries. Preciado continues where Michel Foucault left with The History of Sexuality.
Topics:
auto-documentation
,
criticism
,
embodied identities
,
gender
,
intervention
,
performance
,
philosophy
,
reproduction
,
sexuality
,
technology
028
Prestel
Munich
North America
042
Cosima von Bonin: Hippies Use Side Door
monograph
Walther König
Cologne
Europe
049
Pipilotti Rist: Pixel Forest
exhibition catalogue
Phaidon Press
London
Europe
050
Kerstin Brätsch: Innovation
monograph
Walther König
Cologne
Europe
067
Anna Maria Maiolino
monograph
Prestel
South and Central America
082
Women's Work. Is Never Done
theory & essays
AsaMer
Ghent
North America, South and Central America, Europe, South Asia
100
Daybook, Turn, Prospect – The Journal of an Artist 
artist writing
Scribner
New York, N.Y.
North America
120
Saint Lucy Books
Baltimore
North America
129
Prestel
New York
Europe
145
Lily van de Stokker. Friendly Good
Roma Publications
Amsterdam
Europe, North America